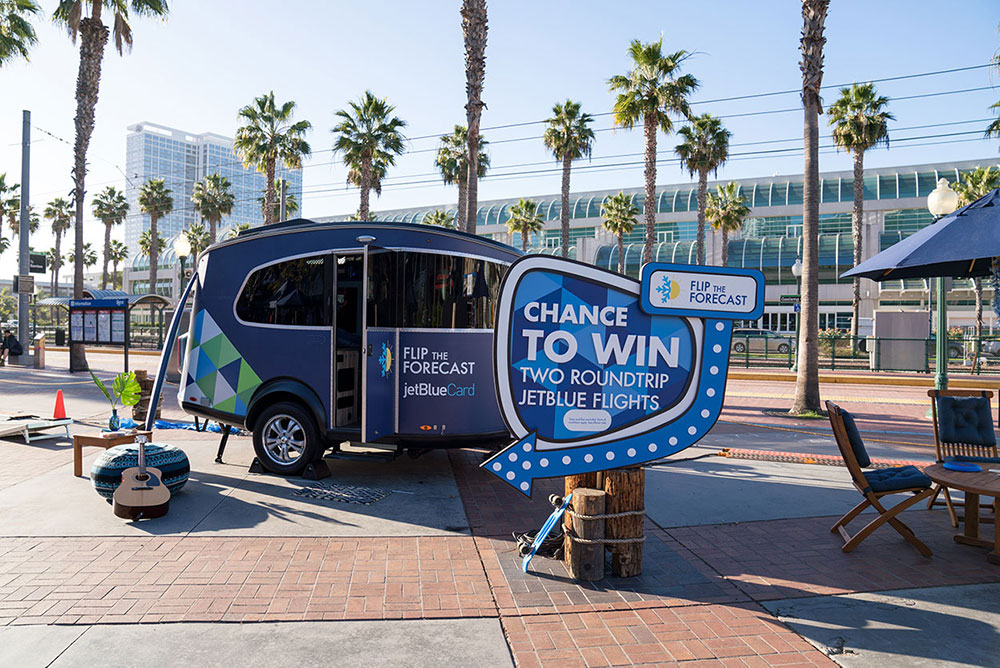 Client: JetBlue Card
Date: February 2018
Website: Case Study Video
Responsiblities: concept development, copywriting, experiential design, film direction
Fly faster than you think--as long as you can convince someone to take your place.
Nearing the end of a long, cold winter we gave a group of Bostonians a chance to warm up on the sunny shores of San Diego. The Catch? They had to convince a San Diegan to come take their place.
We built a pair of beautifully designed live-streaming booths out of customized Airstream trailers. Inside, each booth had a console that used proprietary tech to simultaneously stream live video while recording 4k footage from multiple cameras hidden around the airstream. Then we took our show on the road for some surprise and delight, setting one in snowy downtown Boston and the other one in sunny San Diego.
Our one day experiential film shoot drew people from all walks of life and asked them to offer up their best sales pitch. Some begged for mercy, others bragged about the virtues of not being able to feel their own toes, and one person even tried to claim that Boston had better Mexican food…than San Diego. At the end of the day, we learned Bostonians would say just about anything for a break from the cold, and San Diegans were shockingly accommodating.